The sponsors are "first of all friends" of their candidate.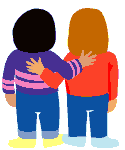 And their primary role is to show that friendship and to nurture it. By sponsoring, they thus have "someone to walk with" in true friendship.
Before the Cursillo, they ask their candidate to fill out the application form and submit to those in charge. They prepare their candidate, answer their questions and help them to fully profit from the experience they are called upon to live. They attempt to eliminate any obstacle that could hinder their participation in the weekend sessions, i.e. problems with money, transportation, care of the children and security of the house.
After the weekend, sponsors continue to nurture this friendship.  In particular they facilitate the candidate's integration into the Cursillo community.