Dioceses of the Francophone Cursillo Movement of Canada
21 Diocesan Secretariats are members of the MCFC. Divided into four administrative sections, these 21 Secretariats look after 26 dioceses located in eastern Canada: 6 in Ontario, 19 in Quebec and 3 in New Brunswick. Each Diocesan Secretariat has its own website (in French). Click on the name or on the map of the Secretariat to access.




4. "La Vérendrye"


Geographic Location
Four administrative sections
1.Les Grandes Eaux"

2 "André Belcourt"
3."Ville-Marie"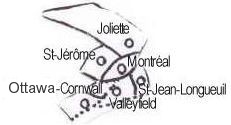 Overview of Catholic dioceses in eastern Canada
(source: CECC)