The Movement is banned
The 1956-1962 period.
Mgr. Hervas great response: a founding paper.
In 1955, six years after the St-Honorat Cursillo, Mgr Hervas was transfered, without apparent reason, from Palma, Mallorca, to Ciudad Real in the centre of Spain. What happened? It is a sad story.  One of the most virulent opponents to the Movement was the superior of Palma's seminary whose bishop was Mgr. Hervas. Unable to silence the rector, Mgr. Hervas decided to dismiss him. However, being from a very rich and influential spanish family, the rector swore that Mgr. Hervas would lose his post. He succeded, and shortly after, Mgr Hervas was exiled to Ciudad Real. The new Palma bishop was Mgr. Enrico, friend of the rector. His first official act was the publication, on August 25, 1956, of a pastoral letter warning the diocesans against the Cursillo Movement. He effectively banned the Movement by forbidding all types of gathering. Years of silence and suffering began.
The pastoral letter had also triggered a series of departures amongst the priests, namely Sebastian Gayá and Juan Capó who followed Mgr. Hervas to the mainland. Others went as far as South America, in Peru among others. As it turned out, this diaspora greatly contributed to the expansion of the Movement. But imagine the laymen's despair seeing all these priests, who were cursillistas, leaving the island. Mgr. Enrico's ban lasted six years: 1956 to 1962.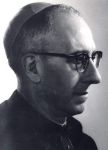 The pastoral letter also had some good consequences.
Mgr. Hervas was first to react. With the help of associates, he quickly wrote a paper providing an answer for every point raised by Mgr. Enrico's letter. 
Mgr. Hervas's reply was intitled: "Cursillos de Cristiandad, a tool for Christian Renewal" (1957). It is most likely the longest pastoral letter ever published by a bishop: nearly 500 pages!
These were the chapters:
Genesis, essence and structure of Cursillos
The old and the new within the Church
The doctrine of the Movement
The means and the technique of the CM
The priests and the laymen in the CM
Conclusion: Pastoral Standards
The Works of the Holy Spirit: The Virgin Mary's Protection
As can be seen, the first years had their share of turbulance, and going back through its history one realizes that this was the work of the Holy Spirit. It would not have otherwise survived beyond its founders and we would not today have a movement spread over all 5 continents with millions of members speaking all languages. Father Gayá is himself convinced that the CM was born under the protection of the Virgin Mary because Mgr. Hervas had proclaimed 1944 "A Marian Year" in preparation for the definition of the Assumption dogma, and also because of the providential circumstances which led to the birth of the Movement right above Our Lady of Grace sanctuary.